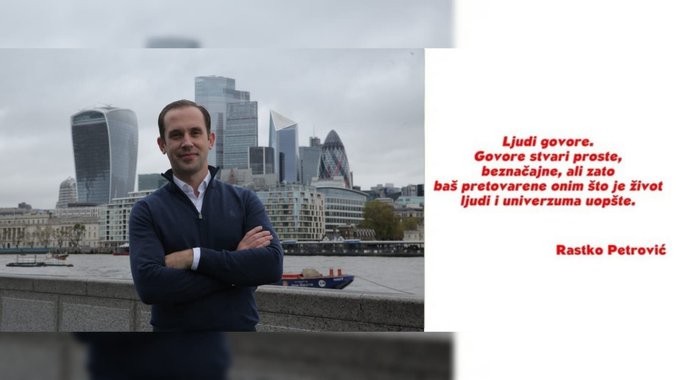 Father was an orthodox priest: news quickly spread and my friends thought my father was the 'main man' in the mafia as everybody would kiss his hand when they see him. 😅🤣
Entrepreneur Lazar of Serbian roots, grew up in the United Kingdom. Went into the entrepreneurial and business world very early on so he decided to share the knowledge he got from that experience with the people from Serbia. He wrote a book Make it Happen, which deals with this subject of entrepreneurial, business and motivational nature. Also, he made a documentary with the famous Boycie called Boycie in Belgrade where the great British actor is promoting Belgrade and his wonderful experience visiting it.
How was it like growing up as a foreigner in Britain?🤔
As a child it was really interesting as you quickly understand you're a little different than those around you. When the teacher would call the register, your name would sound different from all the other names on the list 'Lazar Vukovic'. The town where I grew up in was predominantly British and there were not many foreign people living there at the time, so it felt like I almost lived two lives. One at home and around Serbian people and another at School and with friends. There were many funny instances for example my father was an orthodox priest and as you know you kiss the hand of the priest as kissing the hand of Christ – this was unseen at the time, news quickly spread and my friends thought my father was the 'main man' in the mafia as everybody would kiss his hand when they see him. 😂 I've mentioned some of these funny stories in my debut book 'Make it happen!'.
What made you be prone to business the most?
I've always had a passion for making things happen, whether that at school or later in life I would always be fascinated into making an idea or opportunity a reality. Even as a child I would use my pocket money to buy sweets before going to school to later sell at lunchtime for a profit, well some I'd give away to my friends which I guess was marketing at the time and the rest I would sell… little did I know later in life that I would own a chain of high street toy stores (with large pick and mix sections) amongst other businesses. The best thing about entrepreneurship is that it's all down to you to make it happen, if you really believe in an idea, only you can bring it to life.
What inspired you to come back to Serbia and start businesses here? 😎
I've always felt that I belong in Serbia especially after being brought up in a Serbian household, speaking the language, having family in Serbia and Montenegro. It was almost as if I'd look for an excuse to do business in Serbia because I love the country so much. What I really like about Serbians is their forwardness, they don't waste time into getting to the root of the topic. This directness in business allows you to solve problems much quicker. I have a great team in Serbia for my digital marketing agency and I'm so very proud of them. My main base is still in the UK where I was born, but I am in Serbia very frequently.
What do you think young people lack the most in regards to entrepreneurial spirit?
To 'do it' – Although it is common in many countries, there are so many ambitious individuals out there with an idea, opportunity or passion to go into business but the common thing that's holding them back is they need to get out there and do it. Of course, different countries have different barriers, some countries make starting a business easier, but those countries have so much more competition and vice versa.
What key advice would you give to young entrepreneurs?
There will always be a reason not to do something, but if you really want to do it, then it's up to you, nobody else. Don't worry about what other people are doing, focus on you, your goals and how you are going to achieve them. Planning, obsession and delivery are just some of the key principles to succeeding.
Do you think the new digital generation will still play monopoly?
Personally, I think the digital version can never replace the original board game. That feeling when somebody pulls out the Monopoly box you know you're going to have a great time. What about those that play the banker and money slowly starts to disappear from the bank 😅 , the original game allows you to learn more about the characters of those that you are playing with, real emotion and also such a great way to learn about the players.
Which social media do you like the most and what is the weirdest thing you wrote or saw on it?
It's got to be Instagram, so addictive. But yes, there are so many things on Instagram that are just unrealistic, unfortunately a lot of young entrepreneurs are falling for the 'get rich quick' schemes that certain people portray themselves online by selling courses and promises which are just outright ridiculous. Remember if it sounds too good to be true, it probably is. 🤔
How was it working with Boycie, did you get any pro business tip from him?
It was an experience I'll never forget it was like I bought a national hero to Serbia, people stopping him everywhere we went to just to say hi and take a picture, they were really starstruck. Working with such a legend you would expect him to be demanding, maybe even a bit difficult, but this was not the case. I felt like I was with a childhood friend showing him around Belgrade, not someone I had only known for 3 months and a legend! The best business tip from Boycie is 'confidence', such a key principle in business!
Message to our readers....
Don't listen to those who will tell you - you can't do it. Follow your dreams, get out there and make it happen! 😊
Autor: redportal.rs